Promate Wireless Charging Kit, 3-In-1 Aluminium 2 Coil Qi Wireless Charger Stand with Type-C Sync Charge Cable, QC 3.0 USB Charger and Anti-Slip Surface for iPhone X,Samsung S9,AuraDock-5 Black
Description
Simplify your space with this Wireless Charging Pad, AuraDock-5. This dock is compatible with all Qi compatible devices and fits most smartphone cases. No need to plug in when it's time to power up, just lay your phone or another Qi-enabled device onto the charging pad. The dock's small size makes it extremely versatile - perfect for the office, bedroom, kitchen and beyond.
FEATURES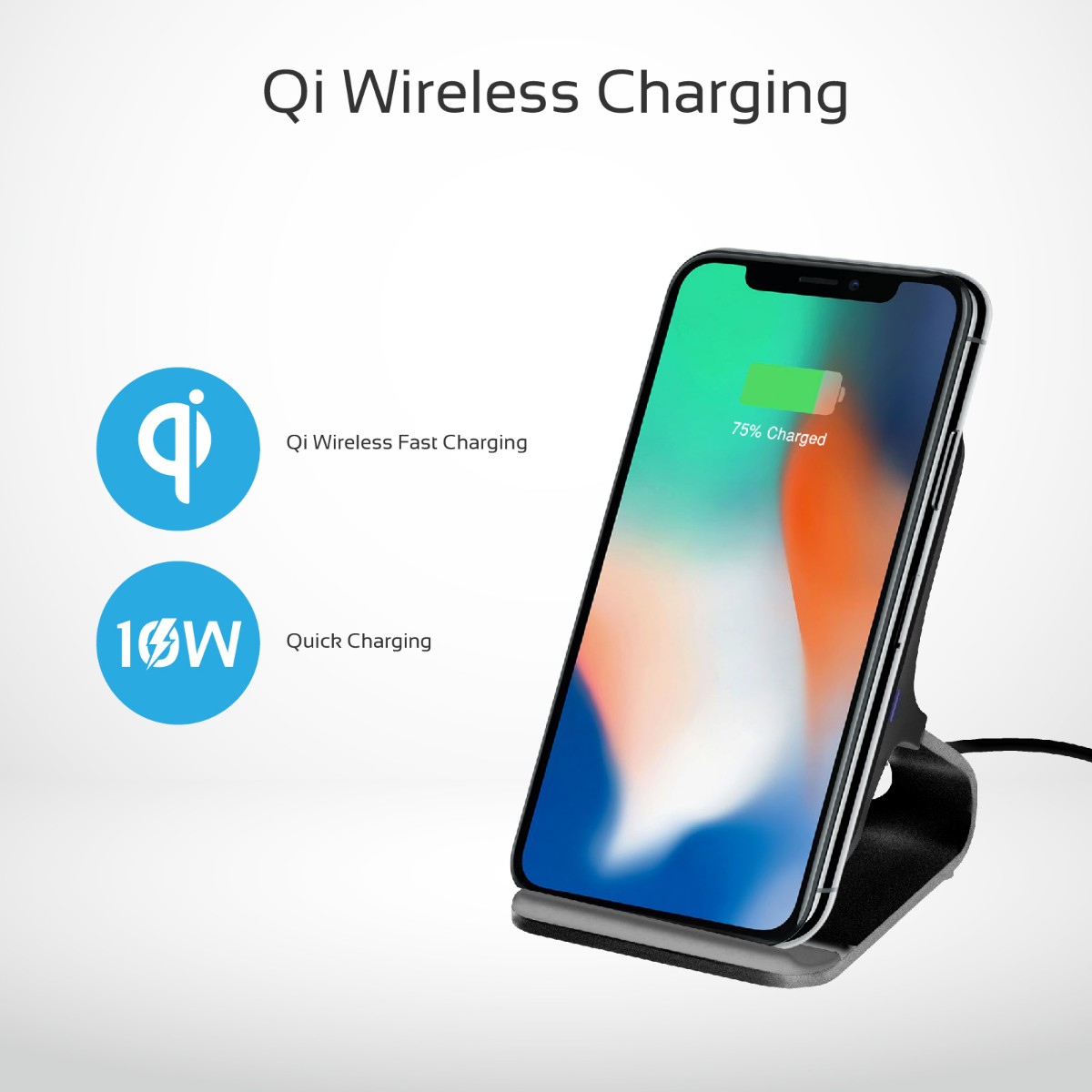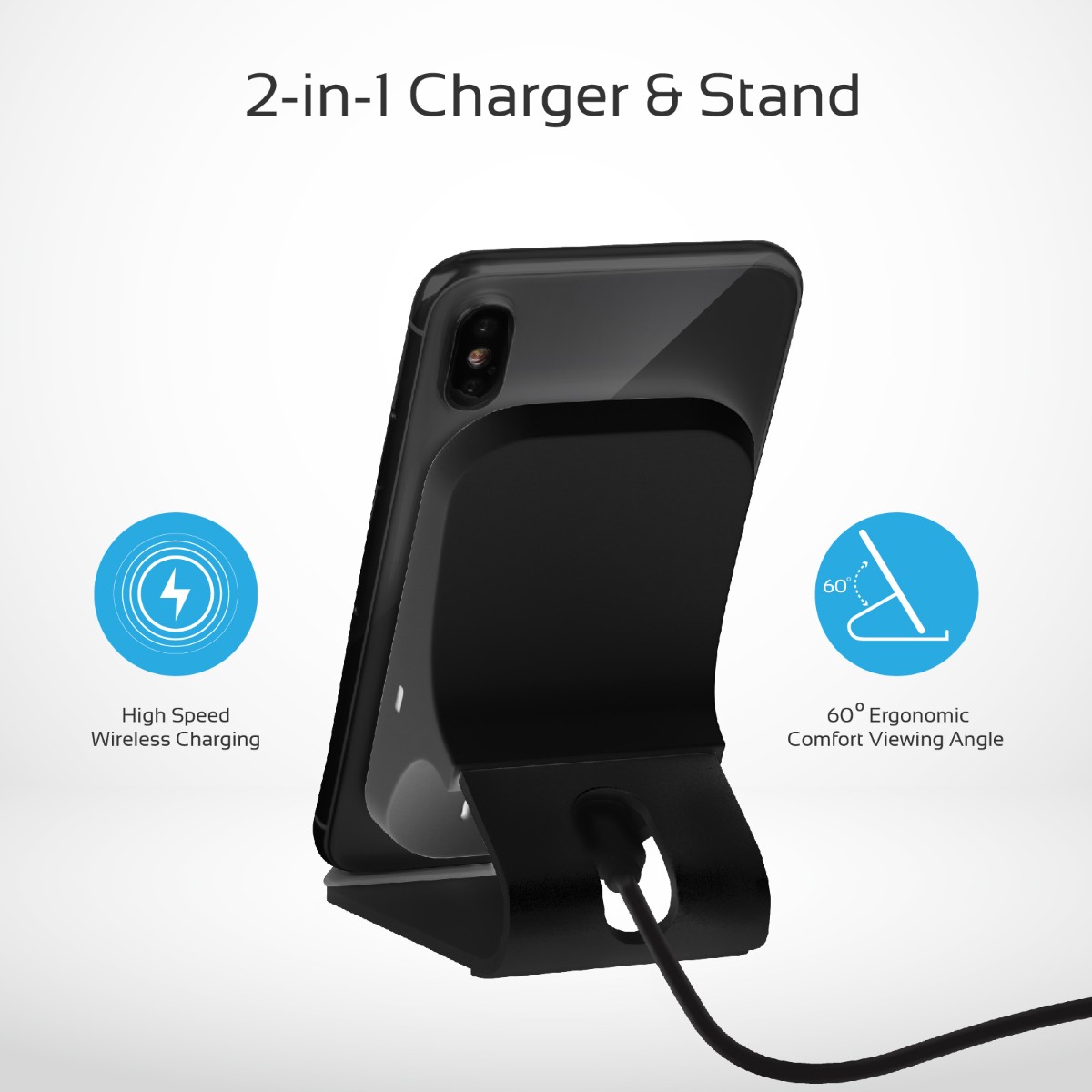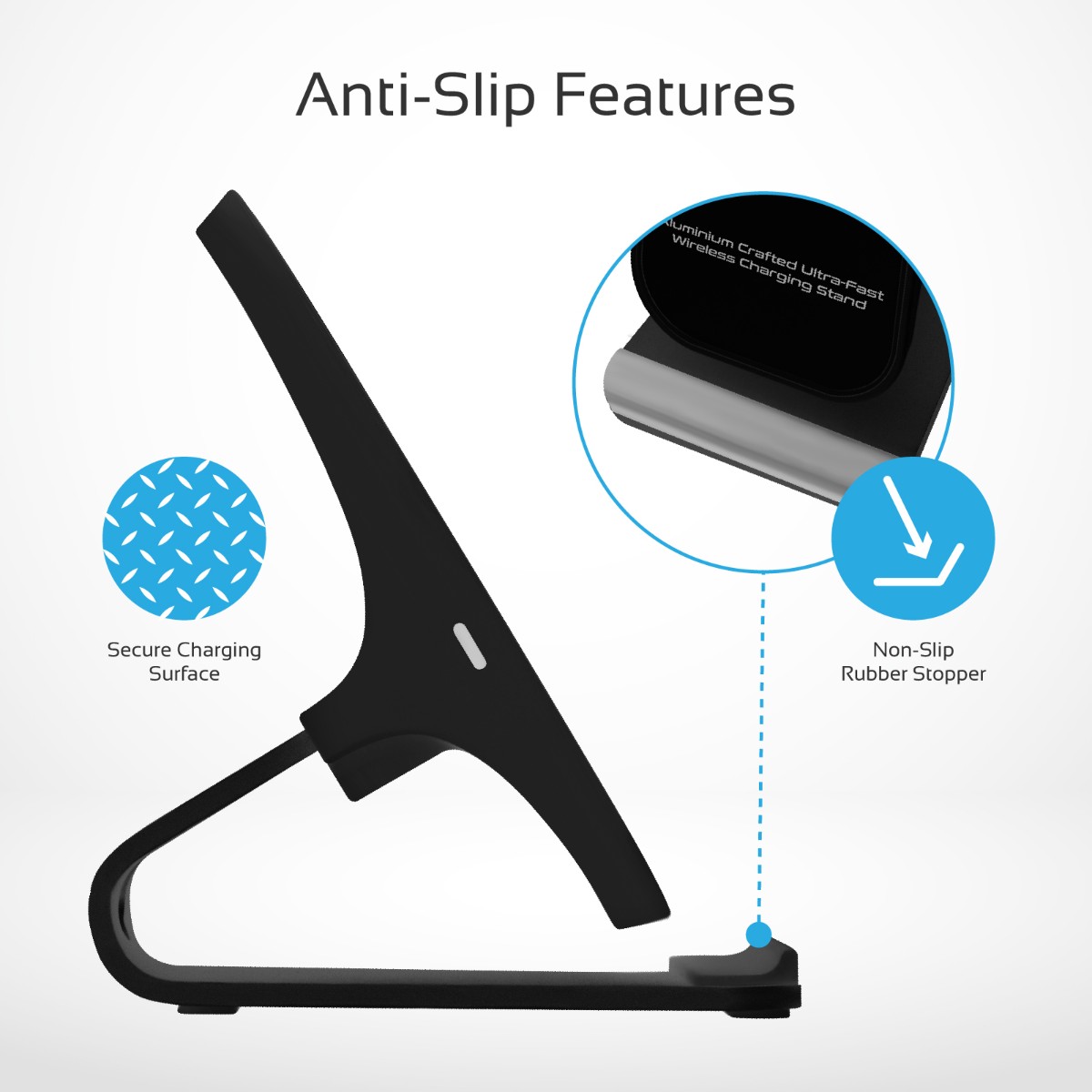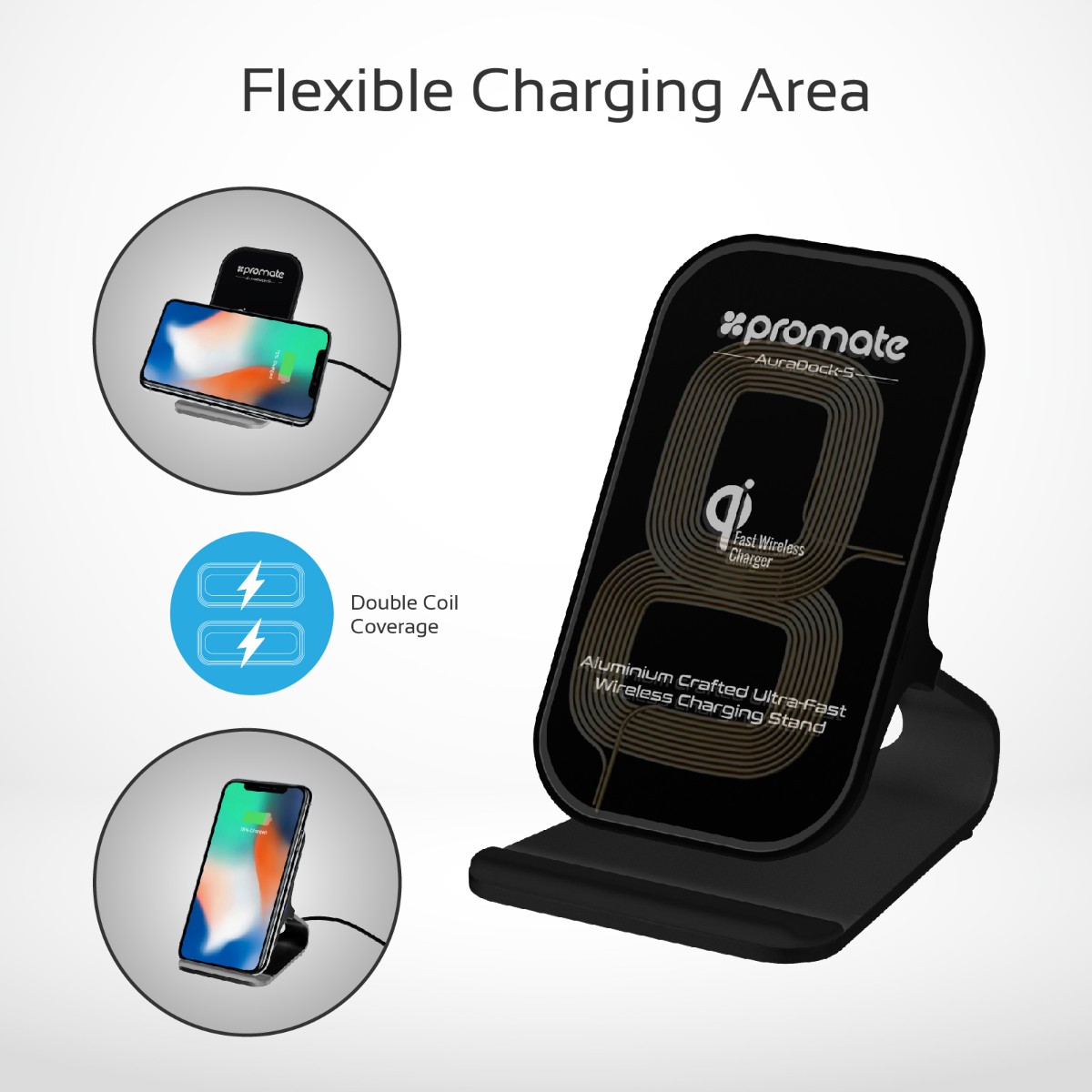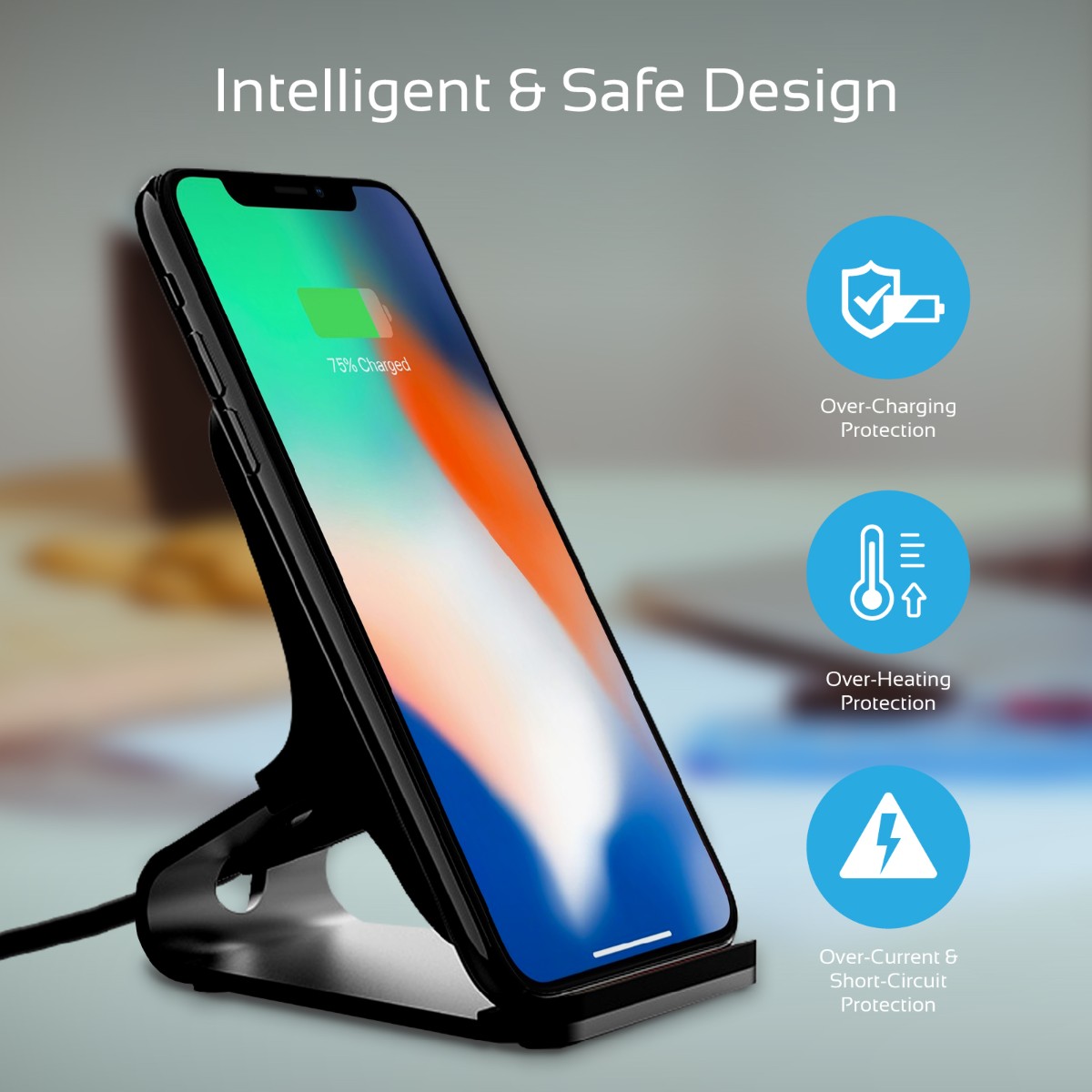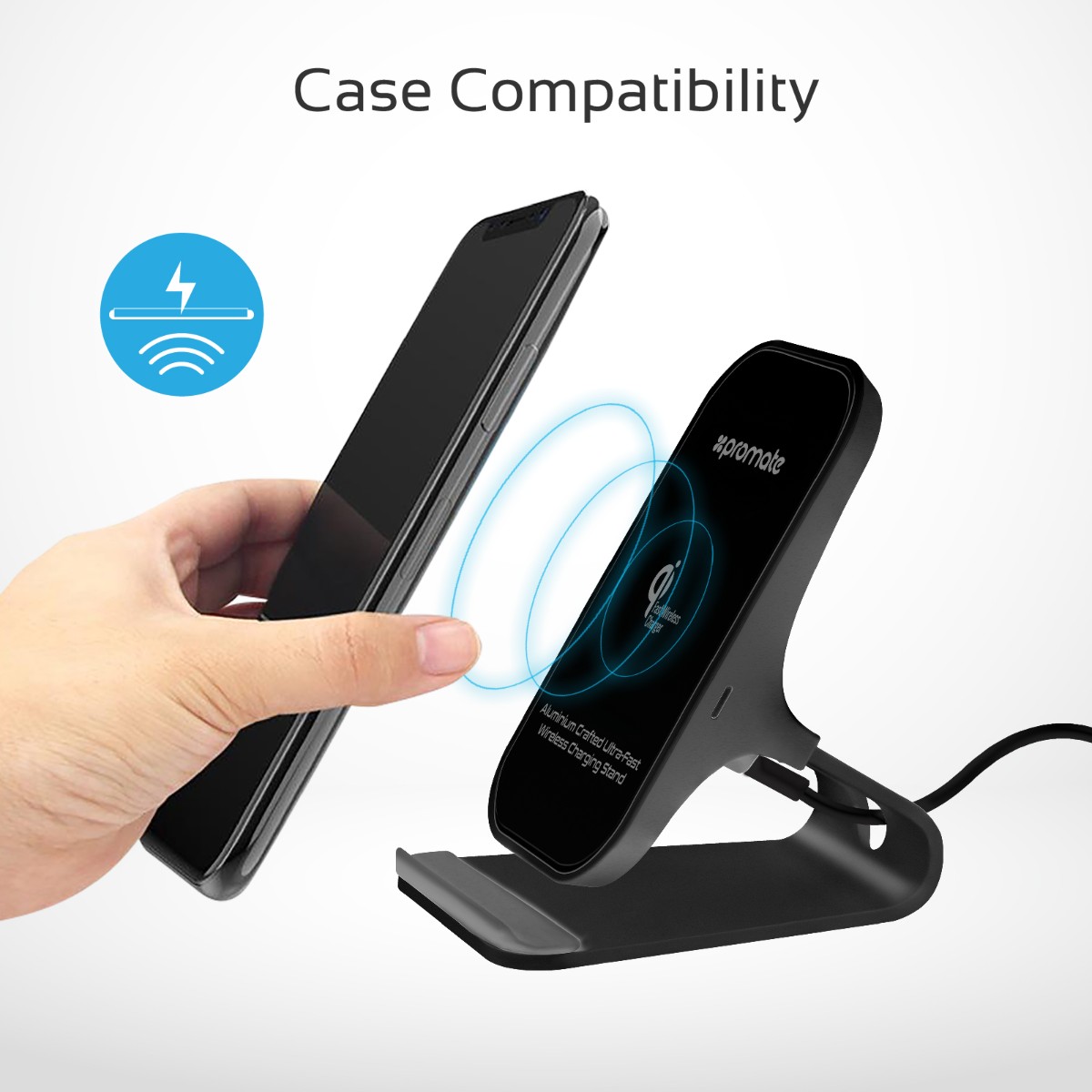 Ultra-Fast Wireless Charger:
Using the latest Wireless Fast Charge technology, all Qi-Enabled smartphones can wirelessly charge up to 1.4x quicker than previous Qi charging methods. Using fast wireless charging technologies, you can recharge your Qi compatible smartphone fully in just two hours.
Two Coils Solution:
With dual coils cleverly positioned inside the stand, the Promate AuraDock-5 Wireless Charging Stand features a greater charging range. This increased accuracy allows you to position your smartphone as you'd like, without the need to constantly re-position to find the Qi wireless charging sweet-spot.
No Cables Required:
No more cables, no more messy charging stations. Simply place your Qi-enabled devices on the non-slip charging surface that's designed to help secure your device while charging. Keep charging simple, even when your hands—and day—are full.
2 in 1 Qi Wireless Charger:
With adjustable charging pad, you can put it on the pad what you want to angle charging. Adjustable charge stands which allow you to watch the video, listen, read, send messages while charging. It also convenient to carry.
Flexible Charging Area:
Built-in dual coil offers you flexible charging area and more unlimited wireless charging experience. The fast-wireless charger allows you to charge your phone vertically or horizontally, which means you can enjoy movie and music, making calls or sending messages without interrupting while charging.
Up To 10W of Fast-Charging Power:
Enjoy more battery power in less time, when the Promate AuraDock-5 is used with a quick charge power supply it chargers wirelessly at the speed of wired fast chargers, allowing you to focus on the things that matter rather than waiting around for your phone to recharge.
Wirelessly Charge Any Qi-Enabled Smartphone:
With a sleek and slim portable design - this universal slimline Qi wireless charging pad is a fantastic space saving way to charge your phone while you are away from home or the office. Designed for quick and intuitive charging, this pad allows you to charge any Qi enabled smartphone without the mess of cables.
Use and View Your Phone Without Interrupting Charging:
The intuitively designed Qi Wireless Charging Stand makes using your phone while charging easier than ever. Positioning your device at a convenient viewing angle, the Fast Charge Stand allows you to navigate through your music, view incoming notifications and see the time without having to re-position your phone and thus interrupt the charging process.
Great Construction:
High-class aluminium alloy with refined polishing provides comfortable tactility, the anti-slip rubber mats at the bottom perfectly enhance its stability, high-polished edge protects devices from scratch, it's also an indispensable accessory and eye-catching decoration for bedroom, study, office, etc.
Lightweight, Compact and Super-Sleek Build:
Perfect in any setting, this Promate wireless charging stand sports a sleek, elegant minimalist build. Combine this with an unobtrusive aesthetic, and you have a pad that's sure to fit in, whether in your office, your bedroom, your kitchen or anywhere you need it.
Electromagnetic Field for Qi Wireless Charging:
The Promate Qi Wireless Charging Pad allows your Smartphones to charge wirelessly via electromagnetic field and inductive coupling that send an energy charge from the charging pad to your phone. This makes for a beautiful space saving way to charge your phone at your desk, office or home.
Non-Slip Coating Keeps the Power Coming:
You'll never need to worry about your Phone slipping or becoming misaligned while on this pad. Promate has coated each wireless base with a special non-slip material, ensuring that your Phone stays where it's placed. Additionally, an electroplated inner metal structure creates a stable platform that won't move around on any surface.
Case Compatibility:
Charge without removing your case. The AuraDock-5 Wireless Charging Pad Stand is engineered to work with most lightweight cases.
Qualcomm Quick Charge 3.0:
One of the world's fastest phone and tablet charging technologies. Up to 4X faster than standard 1A chargers—able to charge compatible devices up to 80% in just 30 minutes. Completely backwards compatible with all versions of Quick Charge.
Adaptive Fast Charging (Quick Charger) Wall Charger:
With the High-Power Wall Charger, your Samsung Galaxy or other USB compatible phones will always be fully charged and ready to go, up to 75% faster rate. Type-C™ to USB Cable Compatible with the Adaptive Fast Charging wall charger. Experience faster-charging speeds than ever before with Promate Adaptive Fast Charging.
USB Type-C™ Cable Included:
The cable included with this pad stand - the perfect balance between utility and elegance. This cable is not so long that it will get in the way or trip you up, but it's long enough that you can set the pad down anywhere.
Allows Simultaneous Charging and Syncing of Your Type-C™ Device:
This quality cable allows you to connect your Smartphone to your laptop or desktop, to charge your phone and exchange/sync data simultaneously. This charger set charges all other non-fast devices as well. It will charge USB 2.0 phones and tablets that use TYPE C cable at their normal speed. Syncs and transfers files via Type-C™ USB data cable.
High Speed:
USB-C™ to USB-A cables can be used to charge and transfer for devices with Type-C™ port, provide the Maximum 3.0A charging speed and the speed of data sync up to 480 Mbps.
Strong Tangle Free Design:
Tangle-free PVC coated design increases the cable durability, can bear bending test and prevents it getting damage during pull and plug.
Reversible Design:
Premium Aluminium reversible plug connector that fits facing up or down Plug and unplug easily without checking for the connector orientation, USB-C™ helps you insert the connector to your devices in a right way all the time.
Charge Other Non-USB-C™ Devices with The Universal Mains Adapter:
The mains charger features a universal USB charging port, allowing to charge Lightning, Micro USB and other connections when you use your existing charging cables.
Safer and Portable:
Safety guarantee with over-voltage protection, temperature control, foreign item detection. Charge your phone without moving case (up to 3mm). Foldable low-profile design fits perfectly for a portable solution, more convenient to put it in your bags, pockets, cases and so on.
Features Over-Charging Prevention:
The Promate Qi Wireless Charging Stand's automatic shut off feature prevents your smartphone from continuing to charge once the battery is full, providing a smarter, more efficient charging solution over traditional mains chargers.
LED Indicator Keeps You Informed:
Quickly check whether your device is charging or not with the Promate AuraDock-5 Universal Wireless Charging Stand built-in LED charging indicator. A stylish LED glows if the phone is charging, illuminating the edges of the pad and augmenting the look of the pad - and your device - even further.
Compatible with all Qi-enabled Devices:
No matter which wireless charging-enabled Android and iOS device you have, this wireless pad will charge it. This not only means the pad is useful when you're changing phones, but also means friends and family members can take advantage of your wireless charger. You could also charge multiple devices in sequence if you have a work phone, for example. Compatible with iPhone X, iPhone 8/8 Plus, Samsung Galaxy Note 8, S9, S9+, S8, S8+/S8 Plus, Note 5, Galaxy S6 Edge Plus, Galaxy S7, and Galaxy S7 Edge and more
TECHNICAL SPECS & FEATURES:
Coil: 2
Input: 5V,2A, 9V,1.67A
Output: 5V,1A 9V,1.1A
Charging Distance: ≤8mm
Frequency:110-205 KHZ
Chipset:STM8S003F3
Transfer efficiency: ≥75%
Transmitting Power: 10W
COMPATIBLE WITH QI-ENABLED, USB AND TYPE-C™ CONNECTOR DEVICES
Categories Like:/>
Compatible with Smartphones
Compatible with Tablets
Compatible with iPod, MP3 & MP4 Players
Compatible with GPS Navigator
Compatible with Bluetooth Speakers
Compatible with Game Console
Devices Like:/>
iPhone X, 8, 8 Plus
Samsung Galaxy: Note 8, S9, S9+, S8, S8+, S7, S7 Edge, Note 5, S6, S6 Edge
Microsoft Lumia: 1520, 1020, 930, 929, 928, 920
Google Nexus: 4, 5, 6, 7 (2013)
BlackBerry: Priv
HP Spectre 13 x360
Lenovo Yoga 900
LG gram-15Z960-A.AA75U1
MacBook 12 Inch
MacBook Pro 13 with TouchBar
MacBook Pro 15 with TouchBar
MacBook Pro 13 without TouchBar
MacBook Pro 15 without TouchBar
MSI GT72S 6QE DOMINATOR PRO G series
RAZER BLADE STEALTH Ultrabook
Samsung Notebook 9
Samsung Notebook 9 Pro
Huawei P9
Vivo Xplay5 Elite
ZOPO Speed 8
ZTE Axon 7
Nextbit Robin
LG V20
Huawei P9 Plus
Smartron t.phone
Huawei Nova
Huawei Nova Plus
Meizu MX6
Nubia Z11
Meizu Pro 5
Meizu Pro 6
HTC 10
Samsung Galaxy Note7
LG G5
ZUK Z2 Pro
Moto Z
Moto Z Force
ASUS ZenFone 3
ASUS ZenFone 3 Deluxe
ASUS ZenFone 3 Ultra
Lenovo ZUK Z1
Gionee S6
Gionee S Plus
Intex Aqua Secure
Lenovo Z2 Plus
Samsung - Galaxy S Series, J Series, A Series, C Series, Note Series, Tab Series and More
Huawei - Honor Series, P Series, Y Series, Mate Series and More
LG - G Series, V Series and More
HTC - Desire Series, U Series, One Series and More
Nokia - Lumia Series, Asha Series, N Series, E Series and More
One Plus - OnePlus X, OnePlus One, OnePlus 2, OnePlus 3, OnePlus 3T, OnePlus 5 and More
Google- Pixel Series, Nexus Series and More
Lenovo Smartphones - A Series, Vibe Series, K Series, P Series, S Series, Phab Series and More
Asus Smartphones - Zenfone Series, Padfone Series and More
Google- Pixel Series, Nexus Series and More
GPS Navigation - Garmin- All Models, TomTom- All Models and More
Bluetooth Speaker - Jabra-All Models, Bose-All Models, JBL-All Models and More
Nintendo Switch
And All Other Qi-Enabled, USB and Type-C™ Connector Devices/>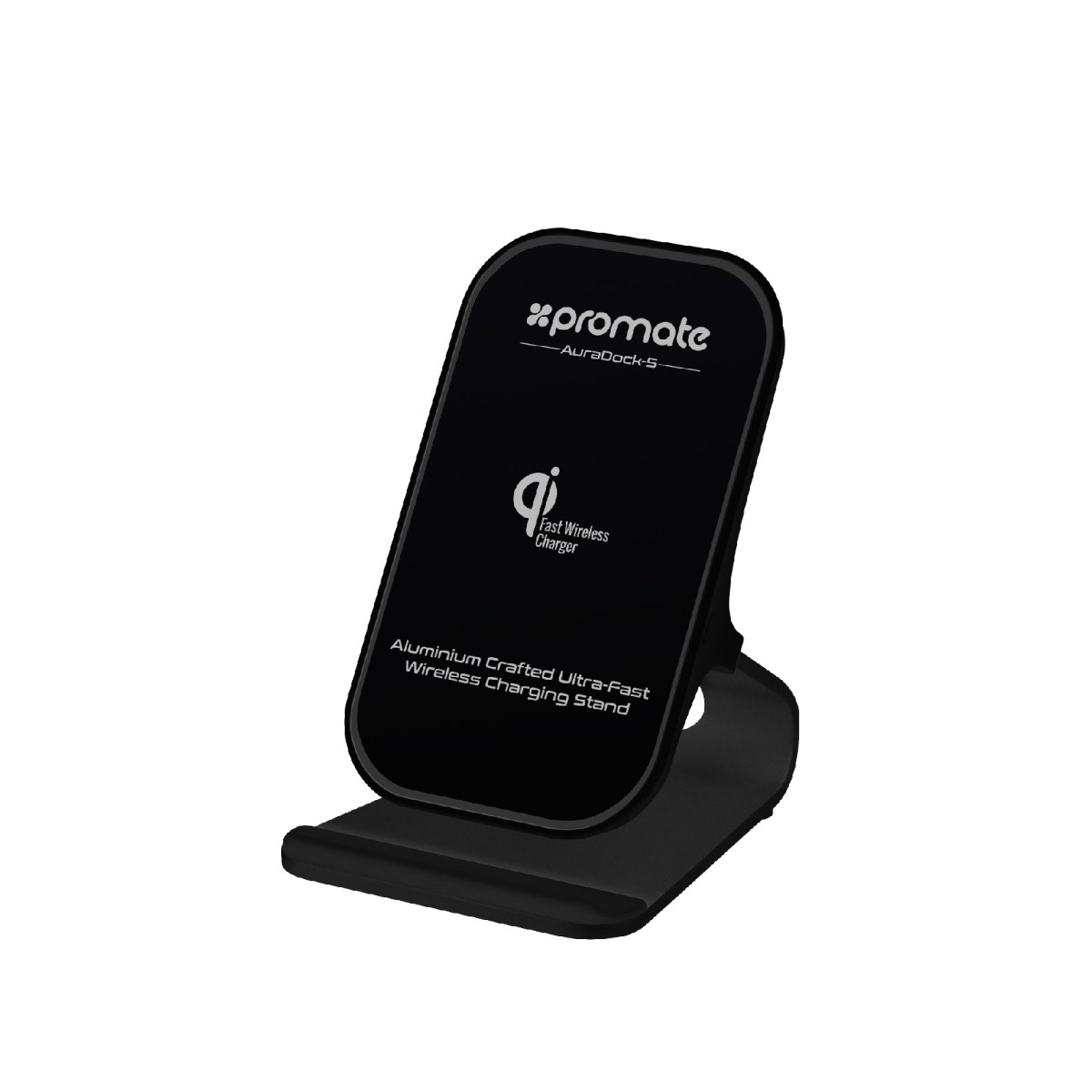 The Rubik's Cube solver can now fix 2x2 and Pyraminx puzzles. Set the scrambled colors and the program find the solution for you. Thry it here.
Features