Samsung Galaxy S8 USB-C Travel Charger, Universal Qualcomm QC 3.0 Wall Charger Adapter with QC 3.0 Car Charger and 1.2m Data Sync Cable, Over Charging Protection, Promate UniGear-QC3 UK
Description
uniGear-QC3, a portable 3-in-1 charging kit makes life easier by combining car charging, wall charging, and USB charging solutions packed into one. Just use the wall plug with the accompanied USB cable to charge your USB-C chargeable device at home, use the car charger while in your car, or just use the USB cable and plug it into any USB port to charge your device. Charge your devices up to 4X faster than other conventional car chargers with the built-in Quick Charge 3.0 port. Stop the wait with uniGear-QC3.
FEATURES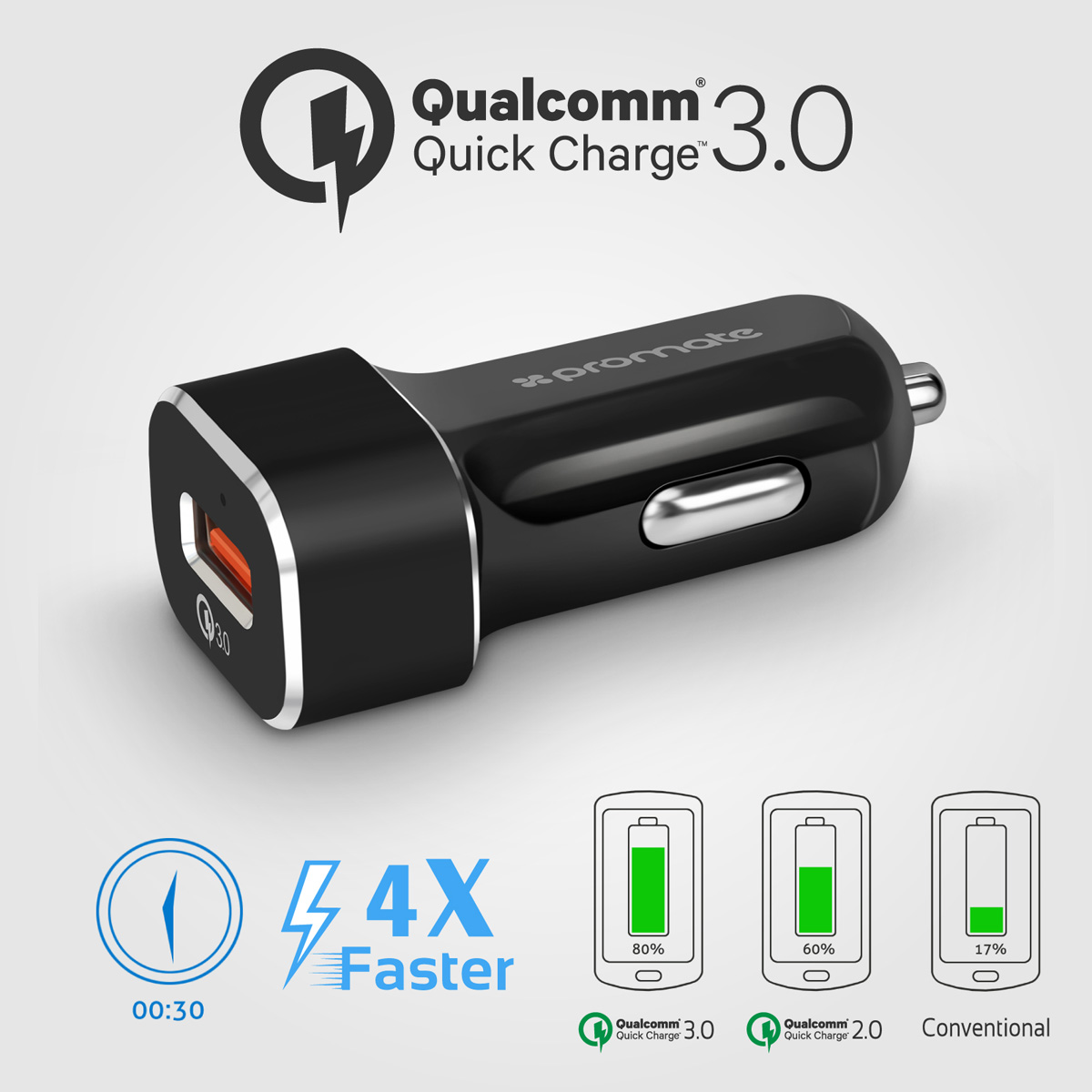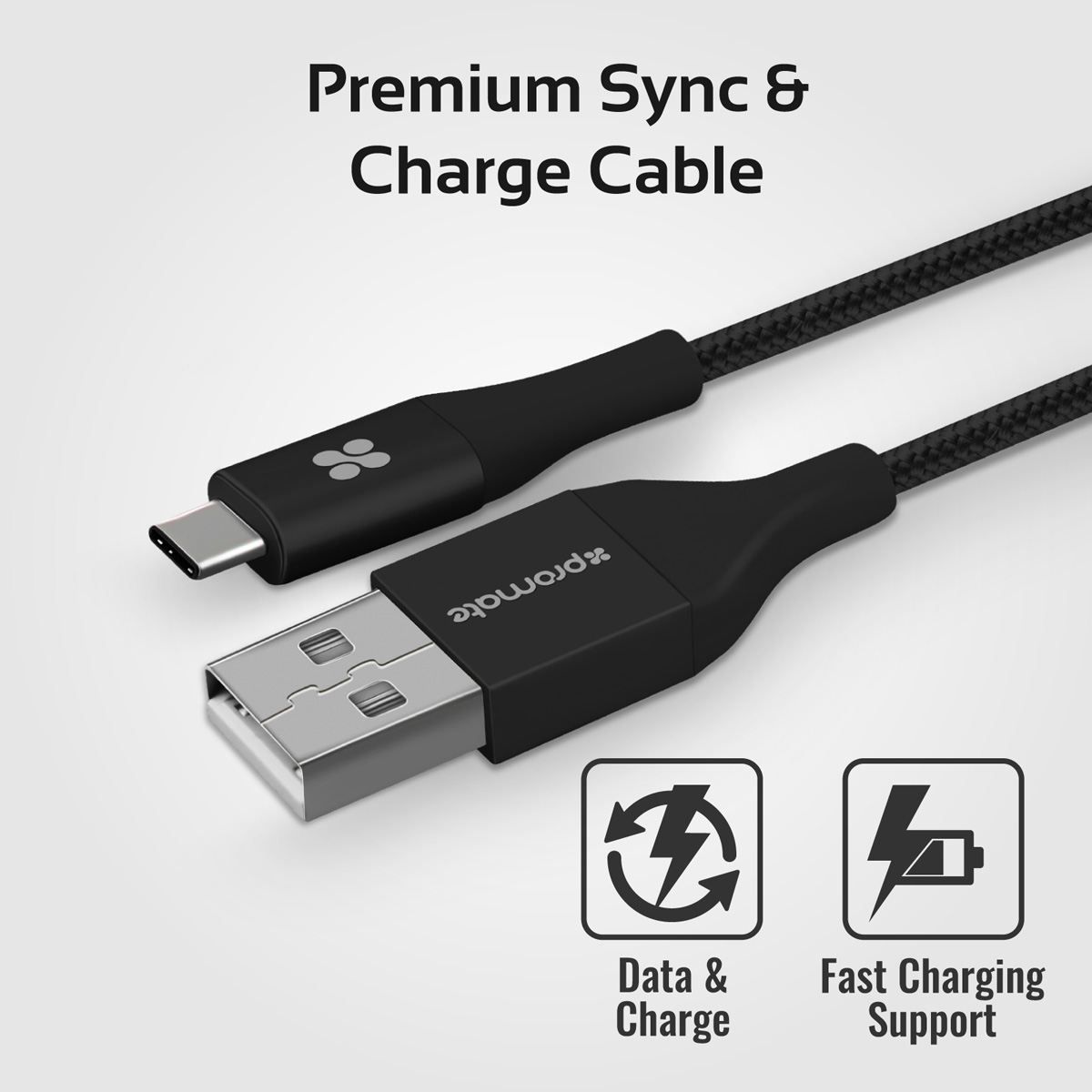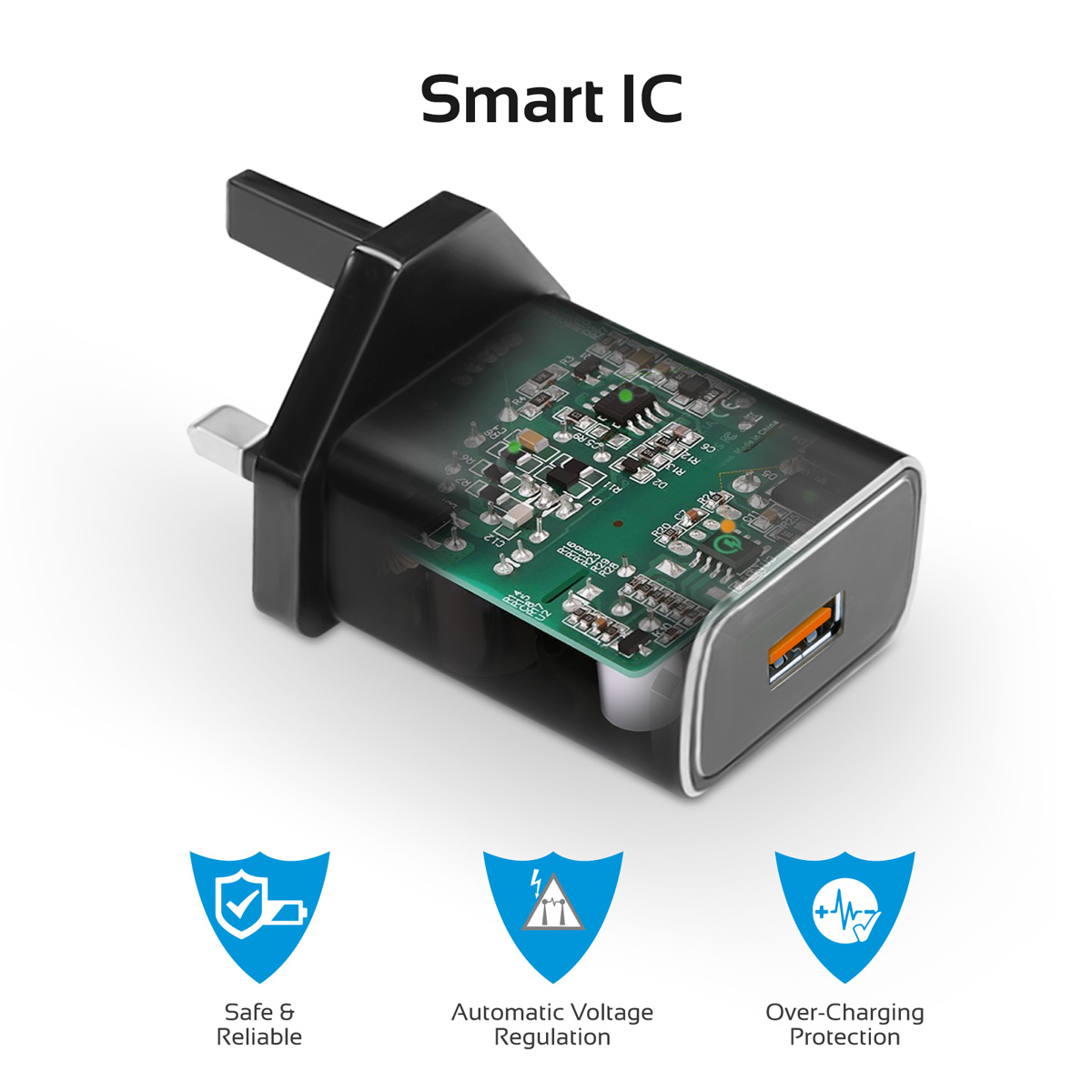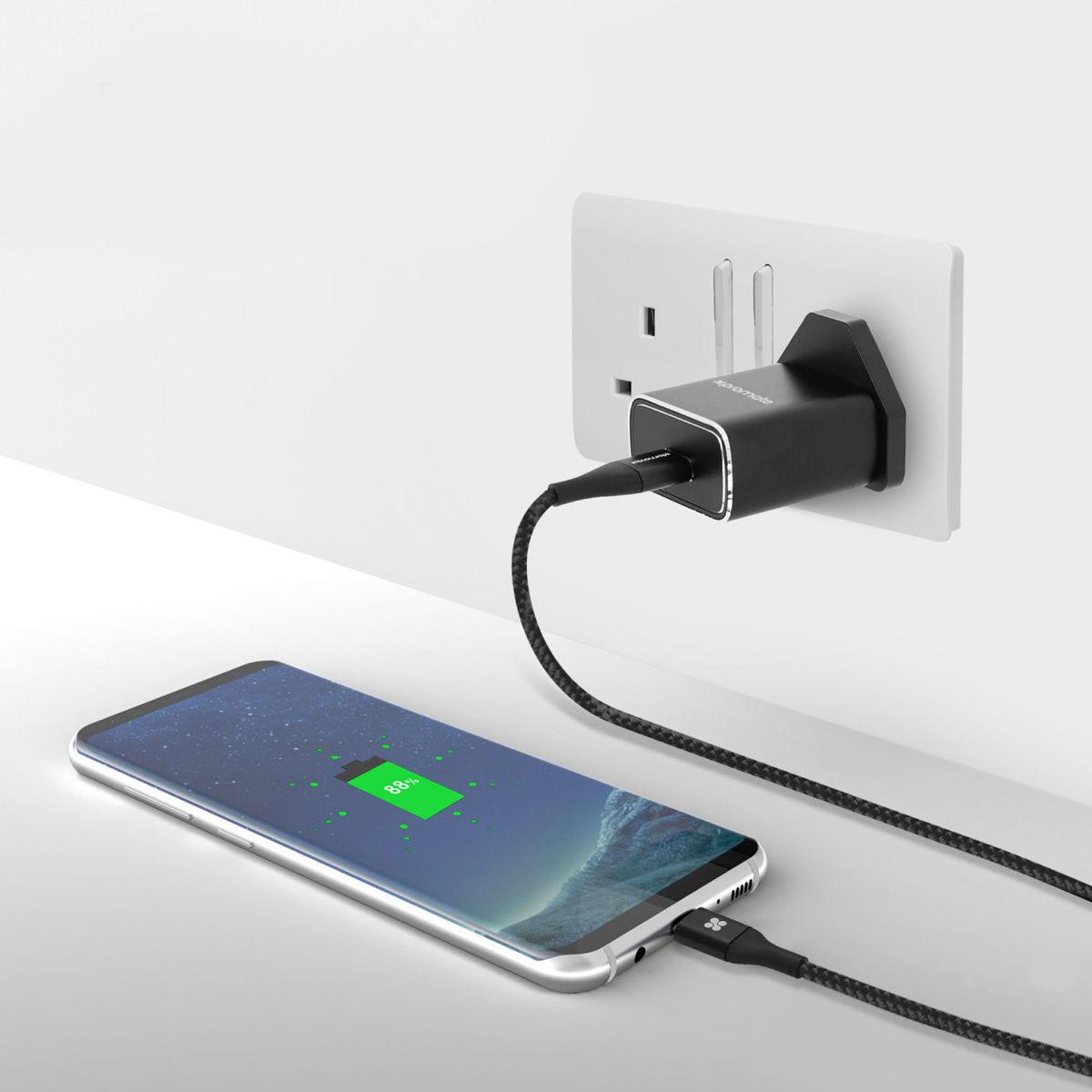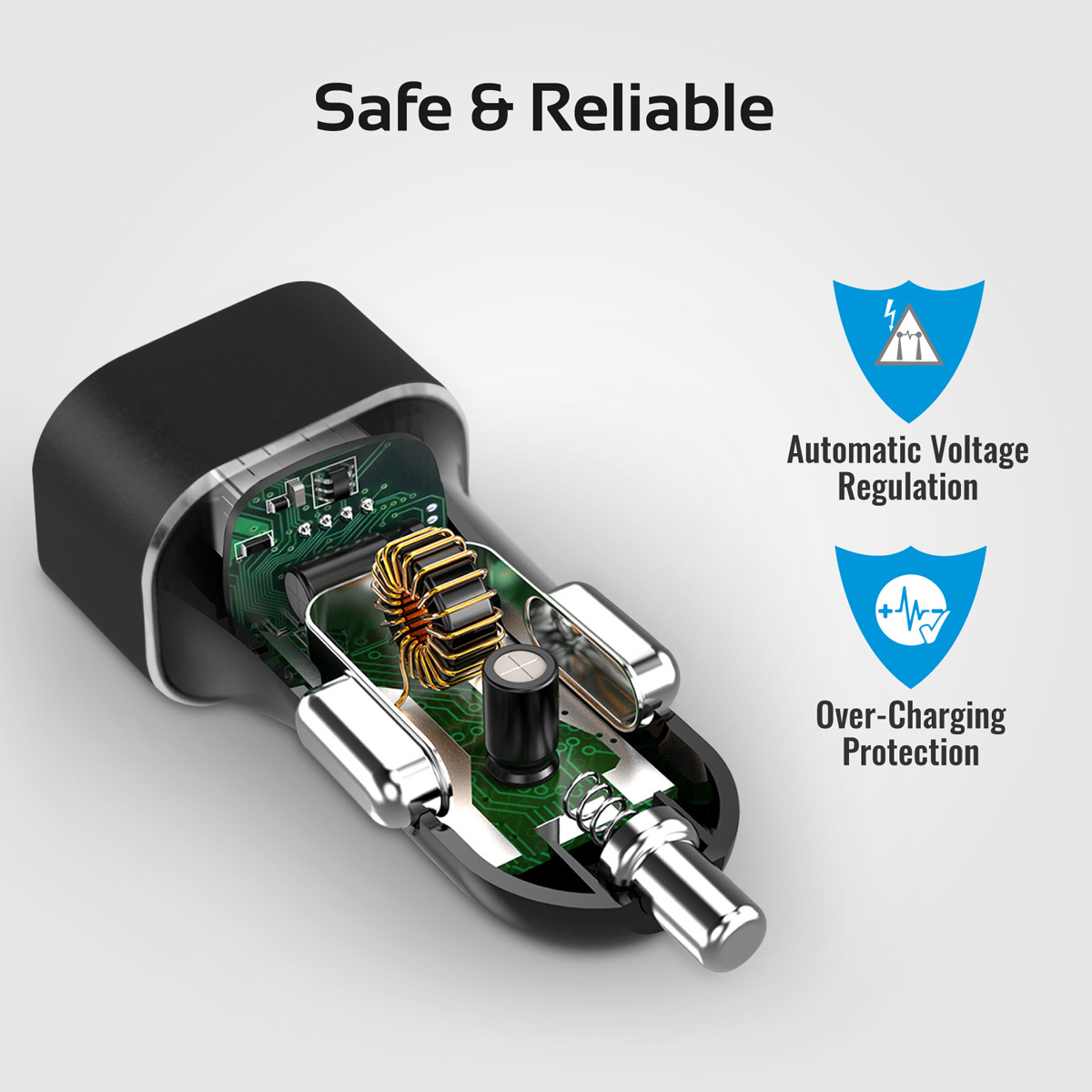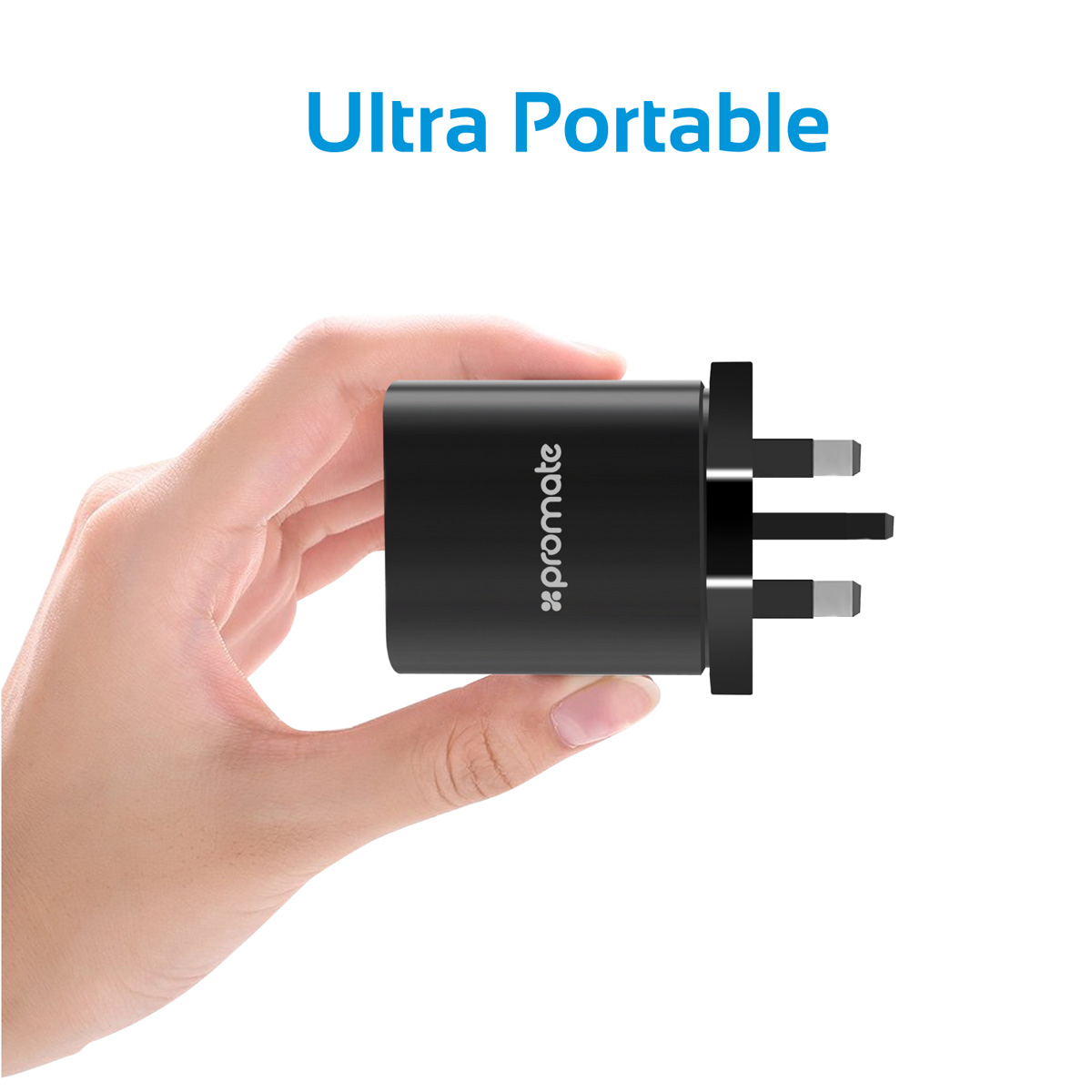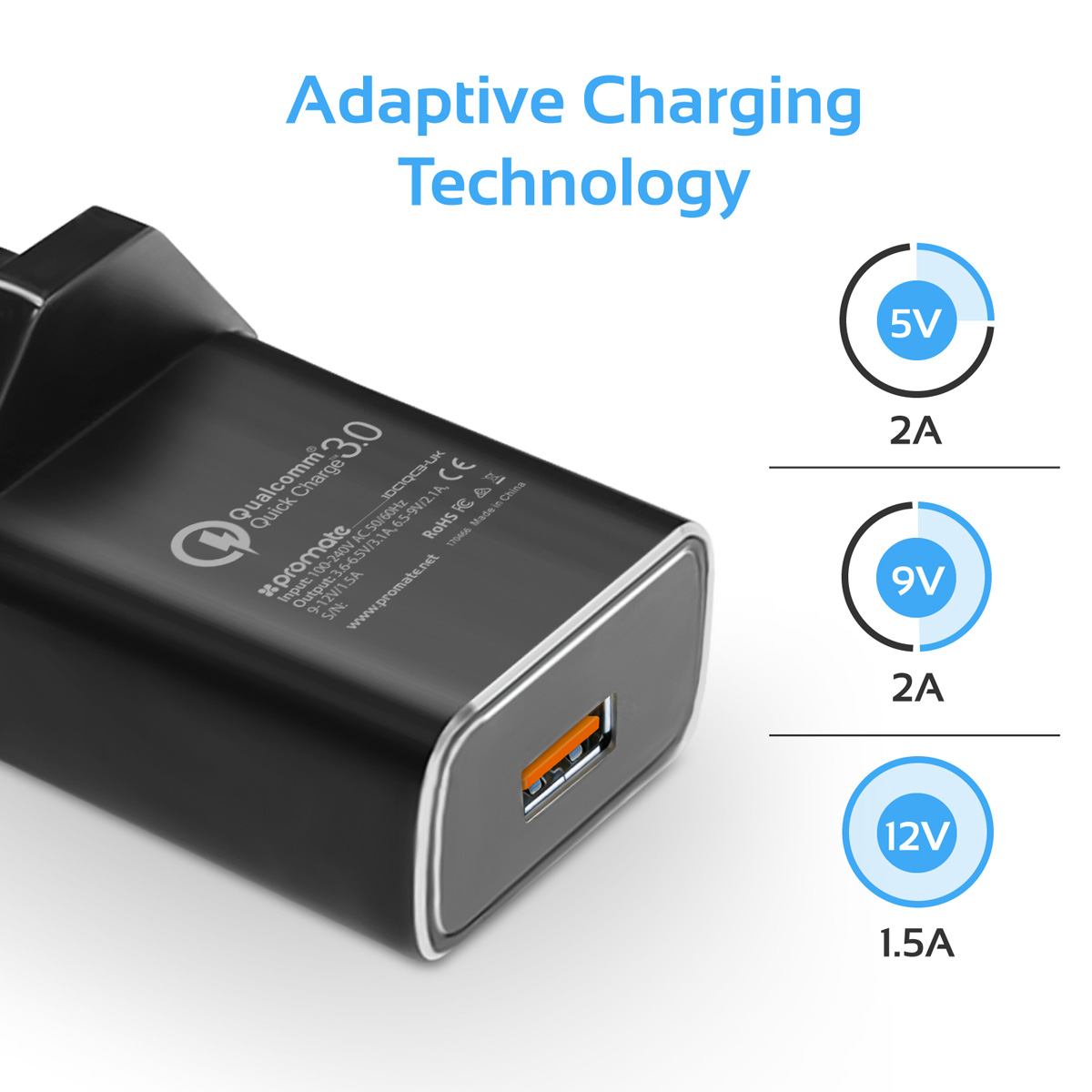 Qualcomm Quick Charge 3.0:
One of the world's fastest phone and tablet charging technologies. Up to 4X faster than standard 1A chargers—able to charge compatible devices up to 80% in just 30 minutes. Completely backwards compatible with all versions of Quick Charge.
Adaptive Fast Charging (Quick Charger) Wall Charger:
With the High-Power Wall Charger, your Samsung Galaxy or other USB compatible phones will always be fully charged and ready to go, up to 75% faster rate. Type-C to USB Cable Compatible with both the Adaptive Fast Charging wall charger and car charger and with just a regular charging device delivering a 2 Amp charging rate. Experience faster-charging speeds than ever before with Promate Adaptive Fast Charging. Using the built-in technology of your latest USB-C Smartphones range with the Promate UniGear-QC3 Adaptive Fast Charger you can rapidly recharge your device.
Adaptive Fast Charging (Quick Charger) Car Charger:
With the Adaptive Fast Charging technology for our battery can go from zero to up to 50% battery level in about 30 minutes, while making calls or use your GPS navigation app. Perfect for those long trips, the Adaptive Fast Car Charger can charge your device at approximately the same time as the Adaptive Fast Mains Charger
Allows Simultaneous Charging and Syncing of Your Type-C Device:
This quality cable allows you to connect your Smartphone to your laptop or desktop, to charge your phone and exchange/sync data simultaneously. This charger set charges all other non-fast devices as well. It will charge USB 2.0 phones and tablets that use TYPE C cable at their normal speed. Syncs and transfers files via TYPE C USB data cable.
High Speed:
USB-C to USB-A cables 2.0 can be used to charge or transfer for devices with Type-C port, provide the Maximum 3.0A charging speed and the speed of data sync up to 480 Mbps.
Strong Tangle Free Design:
Tangle-free nylon braided design increases the cable durability, can bear 8000+ bending test and prevents it getting damage during pull and plug.
Reversible Design:
Premium Aluminium reversible plug connector that fits facing up or down Plug and unplug easily without checking for the connector orientation, USB C helps you insert the connector to your devices in a right way all the time. Extra Long 1.2m Cable, you can lie on the couch and use your devices freely in your bedroom, office and even in the backseat of your car.
Charge Other Non-USB-C Devices with the Universal USB Wall Charger and Car Charger:
The mains wall charger and Car charger features a universal USB charging port, allowing to charge Lightning, Micro USB and other connections when you use your existing charging cables.
Compact Design Allows You to Take It on Your Travels:
The charger itself is very compact which makes it highly portable. Ideal for taking with you on holidays or short trips.
Easy to Store and Carry Around with You:
The Promate UniGear-QC3 both charger comes in 2 separate parts (Charge and cable) which easily fit together for quick and convenient charging.
Universal Charging:
Promate UniGear-QC3 Combo Charger set Charges all other non-fast devices will charge USB 2.0 phones and tablets that use Type-C at their normal speed. Syncs and transfers files via Type-C data cable. Backwards-compatible with all versions of Qualcomm Quick Charge technology (1.0, 2.0 & 3.0). Also charges legacy non–Quick Charge devices at up to 2.4A.
Safety Guarantee:
You won't need to worry about the safety of your devices while they're charging in the Promate UniGear-QC3 USB Mains Charger. This handy adapter features over-charging, over-heating and over-current protection, virtually eliminating the chances of your devices being damaged.
Compatibility:
Compatible AFC Fast Charge device: Samsung Galaxy S8/ Note8/ S8 Plus, LG G6 G5, LG V20, Apple New MacBook, OnePlus 3T 2, Google Nexus 5X, Nexus 6P, Google Pixel, Lumia 950, Lumia 950XL, Moto z, Moto g5, Chromebook Google Pixel, Asus Zen AiO, Lenovo Zuk Z1, HP Pavilion X2, ASUS ZenPad S 8.0, Huawei P10 P9, Huawei Mate 9, Galaxy S8, Nintendo Switch and other USB type c cable device.
Technical Specs & Features:
Car Charger
Input: 12-24V
Output: 3.6-5V/3A, 5V-9V/2A, 9V-12V/1.5A
Input Interface: Car Lighter Adapter
Output Interface: 1 QC3.0 USB Port
Home Charger
Input: 100-240V
Output: 3.6-5V/3A, 5V-9V/2A, 9V-12V/1.5A
Input interface: Standard Plug
Output Interface: 1 QC3.0 Charging Port
USB-C CABLE
LENGTH: 120CM
Compatible with USB Type-C Connector Devices and USB Powered Devices
Categories Like:
Compatible with Smartphones
Compatible with Tablets
Compatible with iPod, MP3 & MP4 Players
Compatible with GPS Navigator
Compatible with Bluetooth Speakers
Compatible with Game Console
Devices Like:
Samsung Note 8, S8, S8+, S9, S9+
HP Spectre 13 x360
Lenovo Yoga 900
LG gram-15Z960-A.AA75U1
MacBook 12 Inch
MacBook Pro 13 with TouchBar
MacBook Pro 15 with TouchBar
MacBook Pro 13 without TouchBar
MacBook Pro 15 without TouchBar
MSI GT72S 6QE DOMINATOR PRO G series
RAZER BLADE STEALTH Ultrabook
Samsung Notebook 9
Samsung Notebook 9 Pro
Huawei P9
Vivo Xplay5 Elite
ZOPO Speed 8
ZTE Axon 7
Nextbit Robin
LG V20
Huawei P9 Plus
Smartron t.phone
Huawei Nova
Huawei Nova Plus
Meizu MX6
Nubia Z11
Meizu Pro 5
Meizu Pro 6
HTC 10
Samsung Galaxy Note7
LG G5
ZUK Z2 Pro
Moto Z
Moto Z Force
ASUS ZenFone 3
ASUS ZenFone 3 Deluxe
ASUS ZenFone 3 Ultra
Lenovo ZUK Z1
Gionee S6
Gionee S Plus
Intex Aqua Secure
Lenovo Z2 Plus
Samsung - Galaxy S Series, J Series, A Series, C Series, Note Series, Tab Series and More
Huawei - Honor Series, P Series, Y Series, Mate Series and More
LG - G Series, V Series and More
HTC - Desire Series, U Series, One Series and More
Nokia - Lumia Series, Asha Series, N Series, E Series and More
One Plus - OnePlus X, OnePlus One, OnePlus 2, OnePlus 3, OnePlus 3T, OnePlus 5 and More
Google- Pixel Series, Nexus Series and More
Lenovo Smartphones - A Series, Vibe Series, K Series, P Series, S Series, Phab Series and More
Asus Smartphones - Zenfone Series, Padfone Series and More
Google- Pixel Series, Nexus Series and More
GPS Navigation - Garmin- All Models, TomTom- All Models and More
Bluetooth Speaker - Jabra-All Models, Bose-All Models, JBL-All Models and More
Nintendo Switch
And All Other USB Type-C Connector Devices and USB Powered Devices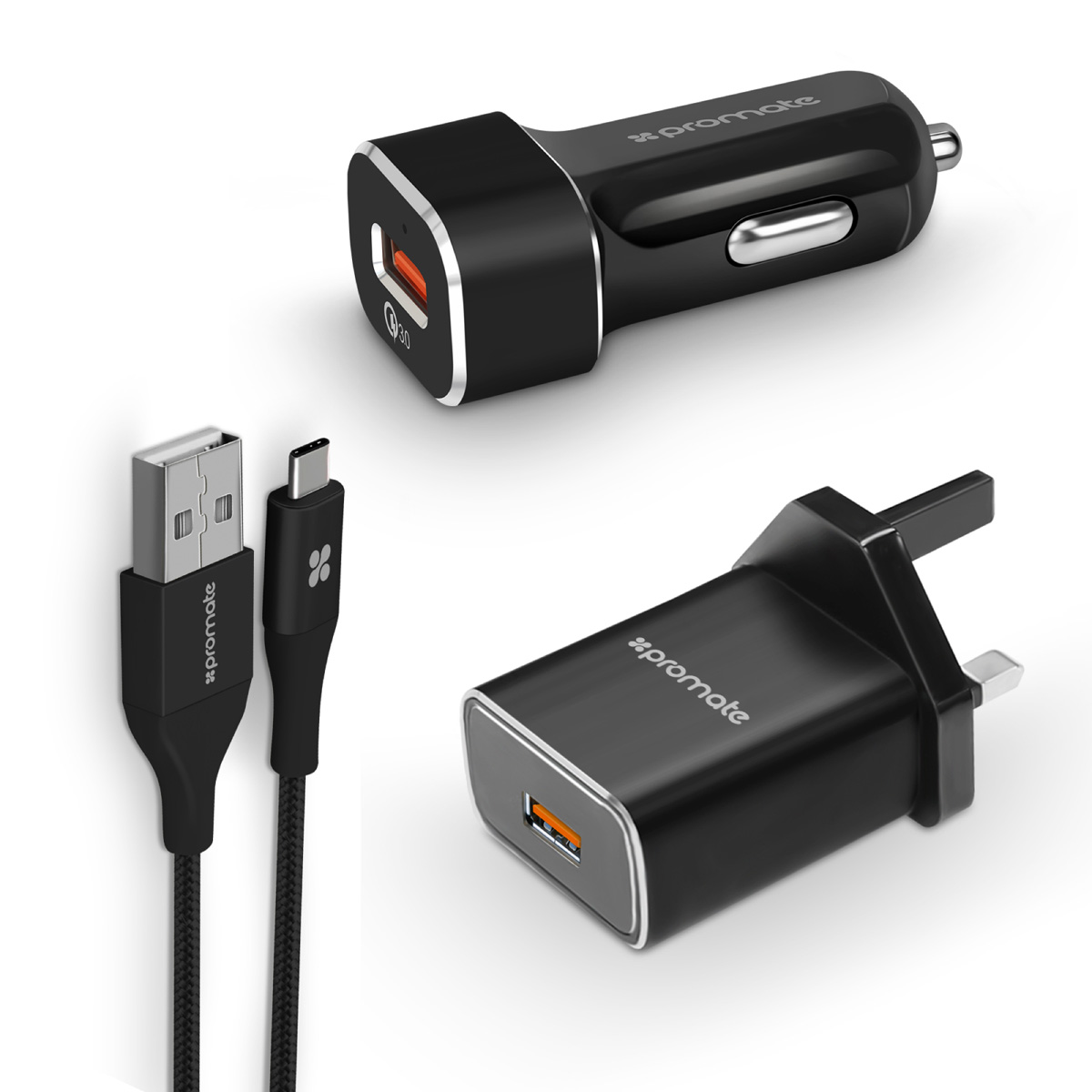 The Rubik's Cube is the most popular puzzle on the World. Learn how to solve it with the easiest method.
Features